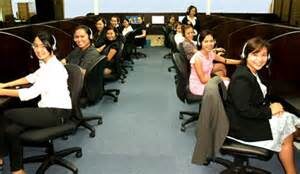 Call Center Agents work in cyberspace and can perform many duties. A call center representative can be a technical support representative. If this is so, the virtual call agents would be tasked to assist callers on technical support of which the company hiring the call center is assigned to. Another role that a call center representative could take is to do sales. If this is the job, the virtual call center agent would sell products through phone. In general, virtual call representatives would answer whatever the customer's needs are through phone.
Because this job has considerably rewarding benefits and minimum educational requirements, a lot of people are attracted to this job. This job is growing fast especially in rural areas and in developing countries. If that is the case, virtual call agents who work in other places would have to work on different shifts. Some would work during dawn and some would work on typical day schedules. Typically, those who work at graveyard shifts get higher salaries.
While the job of a call center may not be too physically involving, it can be very stressful as one would have to deal with different kinds of people all throughout the job. There is considerably more pressure for those who are working for sales as they would have to meet sales quotas but since this job rewards accordingly, a lot of people are still getting into it especially in developing countries.Job RequirementsFor most call centers, at least a high school diploma is required. Although not really required, a college diploma is a good advantage. What employers would really look for in applicants in excellent communication skills as this is the skill primarily involved in the job. Typically, a master's degree of a PhD makes an applicant overqualified for this position.
Virtual call agents would also have to be enduring as they would have to sit long hours on a desk in front of a computer. They also should know how to keep their cool in spite of pressure as this job also has its own pressures. If any applicant would lack in any of the requirements, most call center representatives would give out training with the job. This would allow an applicant to learn a lot of fundamental that can be used in the job as a call center agent.
Job OutlookCall centers have been one of the fastest growing jobs all over the world. This is because they have a lot of slots for applicants and a lot of people are qualified to take those positions. With this, there is expected to be a significant rise in the number of virtual call agents for the upcoming years to come. It can also be said that this profession is one of the fastest growing jobs nowadays.This has also been a major investing trend as a lot of call centers are being put up in developing area. With that, more people have job opportunities.Salary ExpectationCall center agents can earn anywhere from $3,600 to around $15,000 for developing areas. Although this amount is considerably not that big, this is already something for most developing areas. Salary is much higher in developed areas. Aside from that,  virtual call representatives are entitled to a lot of benefits that would be given to them by their companies.