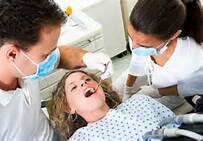 Dental Assistants Careers: What Do Dental Assistants Do?
The most common job of a dental assistant is to assist the dentist in order for the dentist to provide more efficient treatment. With dental assistants doing everything else necessary, dentists are able to focus better in carrying out their tasks.Dental assistants perform different tasks that are related to laboratory work, patient care, and office duties. However, they are not licensed to perform the tasks that dental hygienists perform.
Dental Assistants Careers: Employment DetailsIn 2006, there were over 280,000 dental assistants that were working. Most of them worked in dental clinics while some worked in physician's offices, school clinics, and hospitals. Out of all dental assistants, around one third of them are working part time, some would even carry out more than just one dental practice.
Dental Assistants Careers Requirements
Dental assistants generally learn their skills on the job, although some would receive proper training from dental-assisting programs held by different institutes. If a high school graduate should be interested in pursuing a dental-assisting career, courses that are strongly related to the matter such as biology, chemistry, healthy science is recommended.Dental assistants should be dependable, be a team player, and have good dexterity when it comes to handling tools. In some places, in order for you to become a dental assistant, you would need to be license. For you to have this license, you would have to take and pass a licensure exam. Since the broad scope of duties of a dental assistant may involve the use of radiology, in some places, you might have to complete the Radiation Health and Safety Examination. In some places, you might even need another license for radiology.
What Does This Job Have For Me?Considering a degree is not actually required in order to become a dental assistant, the job outlook seems excellent. With that, employment is expected to grow much faster than how it is now until 2016. According to some sources, this job is now the third fastest growing occupation for which a degree is not required.If you get the job, you also have good opportunities of career advancement. Some dental assistants would later be promoted into office managers, dental-assisting teachers or dental products salespeople. Those with more education also have more opportunities. Some dental assistants who have returned to school have become dental hygienists.In 2007, median hourly wage was around $13.60 while average annual wage was $31,550.
Dental Assistants Careers: Tasks Of A Dental AssistantFor dental assistants who work in dental clinics, some of their day to day duties would involve making the patients as comfortable as possible while preparing them for the treatment, pass the dental instruments to the dentist, keeping patient's mouth dry through suction, sterilizing and disinfecting equipment and instruments, prepare materials for making impressions and restorations, remove sutures, apply anesthetics to gums, remove excess cement in tooth fillings, placing rubber dams on teeth, processing dental x rays. and much more.For those who work in the laboratory, some of their tasks would involve making casts of the teeth and mouth, clean and polish appliances and making temporary crowns.As for those who are assigned to the office, some of their tasks would include scheduling and confirming appointments, keeping treatment records, organizing files, sending bills and receiving payments and ordering supplies and materials.