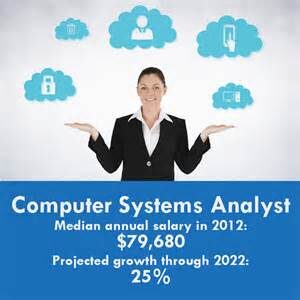 Systems Analysts Job – What Do Systems Analysts Do?
Systems analysts first analyze how an organization can use computers to develop of process things. First, they analyze the current situation and observe. After this, they would be able to identify the needs of the company. Once the needs are known, a systems analyst proposes to whoever is in charge what computer systems are needed, can be improved or what software is needed.
They would gather data first by asking people around what they would want their computers to be able to do. Based on the gathered data, they would plan a computer system that would be able to do those tasks effectively. A computer system is any group of computers, computer tools or software.The main job of systems analysts is actually to get computers in a company's system to work together. They would connect all computers together through a network and would analyze how they would be able to transfer data from one computer to another. This process would require a lot of research, a lot of data of which systems analysts are able to get from the internet.
Another important duty of systems analysts is to make sure that the computer systems are safe. In a lot of companies, a lot of sensitive information would be stored in computer systems. These could be lost if the system would have unwanted foreign matter such as viruses or spyware. Systems analysts, with their knowledge, would figure out how to prevent these from getting in a company's computer system.
Systems Analysts Job Requirements
In order to be a systems analyst, one must have extensive knowledge on computers particularly with computer systems. A bachelor's degree is also required by almost all companies who would hire systems analyst. Some college degrees that would be ideal if one would consider being a systems analyst later would be information technology, information management, computer engineering or computer science. After finishing a bachelor's degree, some would pursue further training or would gain computer experience.
Some would prefer having a master's degree in business as this would enable them to be effective in organizing data. This would also help them understand better what the needs of businesspeople are when it comes to computers.
In order for systems analysts to be effective in their jobs, they need to have excellent logical skills. It is also important that systems analysts would have effective written and oral communication skills for them to be able to communicate instructions and proposals effectively.
Systems Analysts Job OutlookThe demand for systems analysts is expected to grow faster than most jobs as more and more firms are making use of computers for running their businesses and with that, having a good systems analyst would be very helpful for them since they would know how the company would use these computer systems to make the businesses run more effectively.